Qi Gong Healing Exercise Stories
Teresa and Tolrec Katz, Certified Florida Qi Gong Instructors, Recommend Exercise To Heal Qi Gong DVD Title
Qi Gong, The Flow Continues: More Beginners' Practice
Teresa and Tolrec Katz teach Qi Gong classes at The Zen Room in Cocoa, Florida. The Zen Room has been offering mind-body healing arts of yoga, tai chi, Qi Gong and meditation in Cocoa Village for 12 years. Their studio is supported by people who value a mindful, internally focused practice that is a balance of effort and ease in a peaceful, noncompetitive environment. Tolrec is also certified in External Chi Admitting for Healing and Shamanic Gathering of the Four Winds.

Mr. and Mrs. Katz, pictured below, recommend Exercise To Heal DVDs as the easiest and most informative home learning-aids for their students.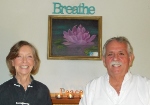 "The DVD,

Qi Gong, The Flow Continues: More Beginners' Practice

, with Lee Holden, has been a valuable tool for the beginner Qi Gong student to nourish the mind, body and spirit. Both my husband and I have been Qi Gong instructors for 8 years, and we have viewed many DVDs to recommend to our students. We have found this DVD to be the most easy and informative for beginners.

Lee Holden explains the forms with a very soft and easy manner to follow. I have purchased many of his DVDs for gifts for family members to begin their journey for healing, and recently I purchased The Flow Continues: More Beginners' Practice for my uncle who is turning 97 this year, to help him with his balance.


Keep the flow going."

Teresa and Dave (Tolrec) Katz
Cocoa, Florida

The Zen Room class schedule is available at http://www.TheZenRoom.info
Telephone: 321-636-2941
Facebook: http://www.facebook.com/pages/The-Zen-Room/341374621719?fref=ts.